Click on PHOTOGRAPHS to see our inventory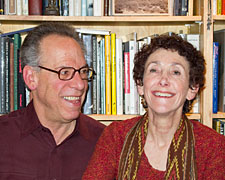 Susan Herzig and Paul Hertzmann specialize in 20th-century American and European photography including modernism, f.64, photojournalism, the Photo-Secession, post-World War II innovations, and unusual or exceptional 19th-century photographic books and albums.
We have more than 40 years of experience buying and selling vintage photographs and are pleased to share our expertise with our clients including museums, private collectors, and colleagues. Our knowledge of the art market, our connoisseurship, and extensive research enable us to offer photographs of quality, rarity, and importance.
We exhibit annually at The Photography Show presented by AIPAD in New York and at Classic Photographs Los Angeles.
Click on PHOTOGRAPHS on the menu bar to search by photographer or keyword such as subject matter, style, period and "ism." Please inquire if you are looking for something not listed, since not all photographs available for sale are posted on the website. Prices are listed for photographs below $10,000. Prices over $10,000 will be quoted upon inquiry.
Click on CATALOGS on the menu bar to see our on-line and printed catalogs. To receive future catalogs and announcements, add your name to the MAILING LIST.
Our newest e-catalog, PHOTOGRAPHS WE LIKE: FOUR – Photographers from the California School of Fine Arts, 1945-55, offers for sale work by talented photographers who studied at the California School of Fine Arts in San Francisco under some of the great photographers of the time: Ansel Adams, Minor White, Edward Weston, Imogen Cunningham, Dorothea Lange, and Lisette Model. The Golden Decade: Photography at the California School of Fine Arts, 1945-55, a book published by Steidl in 2016, features the work of these accomplished photographers. Their work will also be exhibited at the Laguna Art Museum, February 19–May 29, 2017.
We are always ready to purchase fine vintage photographs, books, and albums and welcome your offers. Click on SELL TO US on the menu bar.
We are members of the Association of International Photography Art Dealers (AIPAD) since 1980 and the Private Art Dealers Association (PADA) since 1991.