Click on PHOTOGRAPHS to see our inventory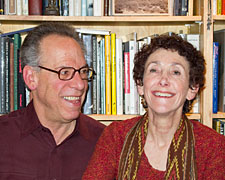 Susan Herzig and Paul Hertzmann have more than 35 years experience in buying and selling vintage photographs. We are passionate about photography, with its unique qualities that delight the eye, the mind, and the heart. We specialize in 20th-century American and European photography including the Photo-Secession, modernism, f.64, photojournalism, and post-World War II innovations. We also deal in books containing original photographs and unusual or exceptional photographic albums.
Our connoisseurship, knowledge of the art market, and research enable us to offer photographs of quality, rarity and importance, and we are pleased to share our knowledge with our clients — including prominent museums, private collectors, and colleagues.
We exhibit annually at the AIPAD Photography Show in New York.
Photographs may be searched by photographer or keyword, which includes subject matter and photographic approaches, i.e. "photojournalism." Not all photographs in our inventory are posted on the website, so please inquire if you are searching for something you do not find here. Prices are posted for photographs below $10,000. Prices over $10,000 will be provided upon inquiry.
Our printed and on-line catalogs can be found by clicking on CATALOGS on the menu bar. To receive copies of future catalogs, add your name to the MAILING LIST.
Research in the history of photography is one of our major pursuits. We have been compiling a thorough bibliography and exhibition record for Edward Weston, up to his death in 1958. Over 2500 books, magazines, newspapers and catalogs and more than 425 solo or group exhibitions where his work hung have been documented.
We are always ready to purchase fine vintage photographs, books, and albums and welcome your offers by email and telephone. Click on SELL TO US on the menu bar.
We are members of the Association of International Photography Art Dealers (AIPAD) since 1980 and the Private Art Dealers Association (PADA) since 1991.